I must admit, I gave my husband so much flack for downloading Pokemon Go the second it was released. I rolled my eyes, called him a nerd, and heckled him every time he left the house to go "Catch 'em all." Sure, I was just as nearly obsessed with the Sims and Rollercoaster Tycoon when I was in middle school, but we are full grown adults now! Both of us working full-time with a three-year-old and one on the way, who has time for that now?!
And then one sunny Saturday afternoon, I took my adult-sized kid and my three-year-old to the park to play and couldn't quite believe my eyes. Traveling bands of Pokemon-hunting gypsies meandered through the park and adjoining parking lot (in absurd numbers I might add). And I realized it wasn't just my husband, it was a pandemic.
My Facebook newsfeed had been consumed by Pikachus, Squirtles, and Pidgeys, friends were walking 5+ miles a day, and there were a lot more 20 or 30-something year-olds playing than I could have imagined. So I thought to myself, let's hop on this bandwagon. (If I'm being 100% honest here, I also wanted to drive my husband crazy by catching any Pokemon nearby that he might have wanted. One evening, as we were taking our daughter on a picnic, he screeched because he thought a nearby jogger had captured a Pinscir he wanted, until I gleefully laughed admitting it had been me. This might be the funnest game I've ever played.)
While we were on our picnic, another couple happened to be playing as well (at this point, if you've played the game, you know good and well who is playing near you), and they had a five-year-old little girl who made fast friends with our daughter. While the majority of present adults (myself mostly excluded) played Pokemon, these little girls were wearing each other out, swinging, playing tag, and enjoying the great outdoors. I saw strangers stop other strangers to strike up conversations about the game, and to be fair, I saw more people out and about than I've probably ever witnessed before.
In the following days, my desire to make fun of my husband and the game vanished. People are out enjoying the great outdoors, walking more than they've ever walked before, making friends with complete strangers, and it's changing our generation as we know it. If you've ever wondered what the next big "thing" is, what might replace Facebook someday, well here it is.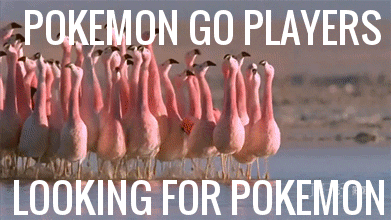 And I don't mean just the people and players. From a marketing standpoint, this is a phenomenon. Remember when you just had to have a Coca Cola bottle with your name on it, this is better. Here are just a few of the amazing developments since the release of the game:
I could go on and on, but let's face it, there are more positives to this game than negatives. Especially when your husband is laying on the couch half asleep and you exclaim to him that a Charmander just popped up, and you watch him move faster than he ever has in his life only for him to realize with tears streaming down your face from laughter that you were kidding. (Y'all, did I mention this is the funnest game I've EVER played?)
So there you have it: I'm hereby admitting that Pokemon Go is actually kind of cool. If nothing else, it's a fun distraction to escape the house and have a good time with your kids. Just remember to play safely and smartly, and as the app clearly states, "Remember to be alert at all times.  Stay aware of your surroundings." Now go catch 'em all.